The First One Is Mind Blogging? What the Hell is This?
Is that Hillary Clinton and Huma Mahmood Abedin? Hanky-Panky? Perhaps it is was no small wonder how she got over Bill and Monica's Scandal?  Will Huma Plead the Fifth or Take Immunity and Testify against Hillary, just like Bryan Pagliano did?  Maybe she is afraid that Hillary will Spank her? Is she a spy? 
Back in September 2015, Hillary Clinton's  Aide Bryan Pagliano, invoked his constitutional protection (the Fifth Amendment Right ) against self-incrimination; while in front of a congressional panel in regards to Hillary Clinton's Email Probe. Suddenly, in early March, the Department of Justice DOJ; granted him Immunity from prosecution for his cooperation into the investigation of classified material found on Mrs. Clinton personal server which he set up for her.
Ironically,  Team Clinton pleads innocent and admits to no wrong doings as they continue to lie and deny. Main Stream Media Ignores All the Facts? But for how long? Who Will Plead— the Fifth and Accept Immunity Next. The DOJ does not give immunity without something valuable from a potential target. Hilly Clinton— YOU are THE ULTIMATE TARGET and You are Going To PRISON!
In your own words Hillary; "There should be no bank too big to fail and no individual too big to jail."
"The FBI is investigation a  potential overlap of State Department and Clinton Foundation work, and questions over whether donors benefited from their contacts inside the administration— an "intersection" with personal business; which may have violated public corruption laws…"
Questions about Huma Abedin's role at radical Muslim journal?
She is also an American political staffer and longtime assistant to Hillary Clinton. In 2009, Abedin was appointed deputy chief of staff to Clinton in the
State Department
, under a "special government employee" arrangement created by the department which allowed her to work for private clients as a consultant while also serving as an adviser to the Secretary of State. Under this arrangement, she did consultant work for
Teneo
, a strategic consulting firm whose clients included
Coca-Cola
and
MF Global
, and served as a paid consultant to the
Clinton Foundation
, while continuing her role as body woman to Clinton.
"The
New York Times
reported that an associate of Abedin's said that the arrangement also allowed her to work from her home in New York City, rather than at the State Department's headquarters in Washington, to be able to spend more time with her child and husband. After leaving her post at the State Department in 2013, Abedin served as director of the transition team that helped Clinton return to private life, continued her work for the
Clinton Foundation
, and set up a private consulting firm, Zain Endeavors LLC. She has been a long-time aide to Hillary Clinton, and was U.S. Secretary of State Clinton's Deputy Chief of Staff at the State Department. In 2015, she became vice chairwoman for
Hillary Clinton's 2016 campaign for president
, and continues in her role as personal assistant to Clinton."
"In October 2015, a federal court in Washington heard arguments on a Freedom of Information Act (FOIA) request by Judicial Watch for records related to Abedin. Judicial Watch asked to make Ms. Abedin's emails and employment records public, asking for details of the arrangement under which Abedin was designated a "special government employee," allowing her to do outside consulting work while also on the federal payroll. On October 6, the State Department said it would be able to hand over 69 pages of emails in response to the FOIA request"
"In 2015, emails by Abedin became part of the FBI investigation and the controversy concerning Hillary Clinton's private email account while Secretary of State,. Some officials within the intelligence community have stated that potentially-classified information was contained in e-mails from Abedin relating to the 2012 Benghazi attack and its aftermath which had been sent through Clinton's private, non-government server. So far, 1818 emails contain classified information on the private server, with 22 being classified as Top Secret. "They were not marked classified at the time they were sent, but they did contain classified information when they were originally sent and received.""
"On October 16, 2015, Abedin testified in closed session before the House Select Committee on Benghazi, in a session that was expected to focus on the 2012 Benghazi attack during which Ambassador J. Christopher Stevens and three other Americans were killed The committee had previously heard closed-door testimony from two other Clinton aides, Cheryl Mills and Jake Sullivan, in September 2015, and former Secretary Clinton appeared before the panel in a public hearing on October 22."
"In February 2016, The Washington Post reported that the United States Department of State issued a subpoena to the Clinton Foundation in fall of 2015. According to the report, the subpoena focused on "documents about the charity's projects that may have required approval from federal government during Hillary Clinton's term as secretary of state" and "also asked for records related to Huma Abedin, longtime Clinton aide who for six months in 2012 was employed simultaneously by the State Department, the foundation, Clinton's personal office, and a private consulting firm with ties to the Clintons""
"EGYPTIAN LEGAL AUTHORITIES CHARGE OBAMA AND HILLARY CLINTON: CRIMINAL CONSPIRACY WITH MUSLIM BROTHERHOOD."
Vote Against Hillary for President; We Don't Need a Clinton dyNASTY…
Published on Sep 29, 2016
BOMBSHELL WikiLeaks CONFIRMS Hillary Sold Weapons to ISIS
Although Hillary Clinton has repeatedly denied that she sold weapons to the Islamic Stats while serving as Secretary of State, Wikileaks founder Julian Assange claims he has proof to the contrary. Thepoliticalinsider.com reported: In Obama's second term, Secretary of State Hillary Clinton authorized the shipment of American-made arms to Qatar, a country beholden to the Muslim Brotherhood, and friendly to the Libyan rebels, in an effort to topple the Libyan/Gaddafi government, and then ship those arms to Syria in order to fund Al Qaeda, and topple Assad in Syria. Clinton took the lead role in organizing the so-called "Friends of Syria" (aka Al Qaeda/ISIS) to back the CIA-led insurgency for regime change in Syria. Read Whole Story Below:
In an interview with Democracy Now, Wikileaks' Julian Assange is now stating that 1,700 emails contained in the Clinton cache directly connect Hillary to Libya to Syria, and directly to Al Qaeda and ISIS.
Hillary Clinton Committed Treason. She Belongs in Prison. It was known in May of 2016, and She is Still Running for President? Ironically our votes are counted on machines over in Spain, that are owned by George Sorros?
"With the 2016 presidential primary season gathering steam, candidates on both sides continue to debate a banking law passed in the middle of the Great Depression."
"The Glass-Steagall Act, whose partial repeal in 1999 has been blamed by some for the financial crisis of 2008-09, had imposed a regulatory separation between traditional banking and higher-risk investing activities."
"Democratic presidential front-runner Hillary Clinton says she would not reinstate the banking law, but has instead laid out a multipronged plan to mitigate risk in the financial industry, including so-called shadow banking, which, she says, played a greater role in the crisis than the commercial banks covered by Glass-Steagall."
"Clinton's leading opponent for the Democratic nomination, Sen. Bernie Sanders of Vermont, would fully reinstate the law, and a 2015 bill to that end has the support of politicians from all corners of the political spectrum. Also among those in favor: two Republicans, former candidate and Arkansas Gov. Mike Huckabee and retired neurosurgeon Ben Carson…"
 "…Most critically, Glass-Steagall made it illegal for a bank that held FDIC-insured deposits to invest in anything other than government bonds and similarly low-risk vehicles. Joseph Stiglitz, winner of a Nobel Prize in economics and a professor at Columbia University,wrote in a 2008 opinion piece:
"Commercial banks are not supposed to be high-risk ventures; they are supposed to manage other people's money very conservatively. It is with this understanding that the government agrees to pick up the tab should they fail. Investment banks, on the other hand, have traditionally managed rich people's money — people who can take bigger risks in order to get bigger returns."
Glass-Steagall attempted to keep commercial banks low-risk to make it safer for the government to back those banks with deposit insurance, which would, in turn, prevent another Great Depression."
Former Representative of New York's 9th Congressional District
Was one of the Congress' most prominent supporters of socialized medicine
Declared that "every single Republican I have ever met in my entire life is a wholly owned subsidiary of the [health] insurance industry"
Launched a 2010 campaign to investigate Glenn Beck and other conservative commentators
Was involved in a 2011 sex-messaging scandal that forced him to resign from Congress
The Infamous Anthony Weiner Photo?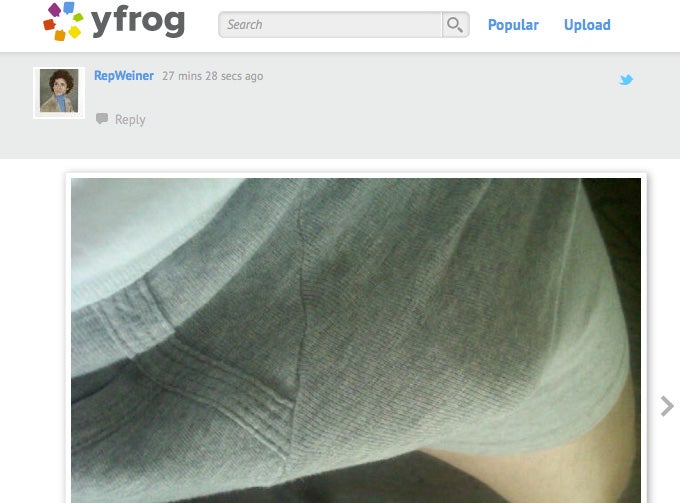 Let's not forget the most famous blue dress in the world, worn by Monica Lewinsky, which caused the most sensational Presidential scandal in recent history— with Bill Clinton's DNA on it.
In November 1997, Monica Lewinsky told her confidant and supposed friend, Linda Tripp, that she had in her possession a blue Gap dress that still bore the semen stain that resulted from her administering oral sex to President Clinton in February of that year.

Tripp called her literary agent, and fellow Clinton-hater, Lucianne Goldberg to report the news that evidence existed in Lewinsky's closet that could prove a sexual relationship between Monica and the President.  Goldberg and Tripp, according to published reports in both Time and Newsweek, discussed stealing the dress and turning it over to investigators.  Goldberg admitted having such a discussion with Tripp, calling it a "Nancy Drew fantasy."

In late November, Lewinsky mentioned to Tripp that she intended to have the dress, which she had been saving a souvenir, dry-cleaned for a family event.  Tripp, anxious to preserve the dress to nail the President, discouraged her from doing so.  "I would tell my own daughter," Tripp told her, that she should save the dress "for your own ultimate protection" should she later be accused of lying about the affair with Clinton.  When Lewinsky expressed skepticism that it would ever come to that, Tripp told her that the dress made her look "really fat" and she shouldn't wear it again in public.

In late July, 1998, Lewinsky turned the dress over to Kenneth Starr's investigators after signing an immunity agreement.  A blood sample was taken from Clinton on August 3, and on August 17, the FBI reported its conclusion that Clinton was the source of the semen on the dress "to a reasonable degree of scientific certainty."

When news of the the existence of the dress surfaced in published reports in early August, politicians and commentators alike agreed that the blue dress proved Clinton lied when he denied a sexual relationship with Lewinsky.  Senator Orrin Hatch (R-Utah) called the evidence "very critical."  Senator Arlen Spector (R-Pa) agreed that it would be "the most powerful kind of corroboration" of an affair.  A George Washington law professor, Jonathan Turley, appearing on "Meet the Press" said of the semen stain: "No one will be able to spin him out of that."
Two Infamous Perverts
'Barack Obama & Larry Sinclair: Cocaine, Sex, Lies & Murder'

Paperback

– January 12, 2010
We  Don't Need  Perverts running and ruining America.

Hillary Clinton is not above the law.
But Hillary Clinton has a demonstrated record of showing contempt for the rule of law.
She refused to tell the truth about the deadly Benghazi terrorist attack that took place on her watch as Secretary of State
She violated the law and avoided accountability by using secret email accounts as Secretary of State
She abused her public office to funnel money to personal accounts – much of which is now sloshing around her vanity "charity" that could be renamed "The Clinton Corruption Foundation."
This is all unacceptable.
In this country our leaders are bound by the rule of law. She must be held accountable for her actions.
Sign the petition now to demand that Hillary Clinton answer for her corruption! Sign the Petition Here NOW!
Great Article on Clinton Cash Here…
"VINCE FOSTER 'SUICIDE' SHOCKER: 2ND WOUND DOCUMENTED…"
According to a report by WND.com: After 23 years, " Newly discovered evidence unearthed from boxes stored deep in the National Archives lend credence to theories about foul play and cover-up that have been hinted at by at least three books and countless articles about Vince Foster's death."
"The newest piece to the puzzle was uncovered by two citizen researchers, one of whom was a witness involved in the case from the beginning."
"What had only been suspicions about missing death-scene photographs are now listed as facts in public documents."
"The smoking-gun information comes from two documents: a two-page letter of resignation and a 31-page memo both written by Starr's lead prosecutor, Miguel Rodriguez."
"Rodriguez refers in his letter to photographs showing a wound on Foster's neck – a wound that did not exist according to accounts in Starr's official government report."
"The obvious questions: How could a suicide victim be found with two wounds – a .38-caliber gunshot into the mouth that exited through his head and another wound on the right side of his neck that one of the paramedics described as a small-caliber bullet hole? And why would the government investigators go to great lengths to cover it up?"
"Another question some will be asking is about Hillary Clinton's embattled presidential run. Can it survive renewed scrutiny into one of the darkest clouds that hovered over her husband's administration – especially considering her close friendship with Foster and the fact that her aides were seen rifling through files in Foster's White House office just hours after his body was found?"
"The newly discovered evidence has actually been sitting, unnoticed or ignored by the media, in the National Archives and Records Administration for years. In 2009, two documents created by Rodriguez were discovered in the archives by researchers Hugh Turley and Patrick Knowlton."
WAKE UP AMERICA! ( Hillary's 22 Biggest Scandals Ever) She Belongs in Prison, Not in the White House Again! 
"HILLARY CLINTON'S CASH AND SECRECY ON THIS RUSSIAN URANIUM DEAL LOOKS CORRUPT AND CRIMINAL."
DECEMBER 01, 2015,
"Update: The Office of Foreign Assets Control (OFAC) responded today that it allegedly had no records."
"(Washington, DC) – Judicial Watch announced today that it filed a lawsuit in the U.S. District Court for the District of Columbia seeking communications between the U.S. Department of the Treasury and former Secretary of State Hillary Clinton (Judicial Watch v. U.S. Department of the Treasury (No. 1:15-cv-01776))."
"The goal of the Freedom of Information Act (FOIA) lawsuit is to gain access to documents involving a uranium deal approved by then-Secretary of State Clinton that is tied to major Clinton Foundation donor Frank Giustra and Russian-state issues."
"The lawsuit was filed after the Treasury Department ignored a FOIA request sent on May 29, 2015.  Judicial Watch's request seeks emails between key Treasury agencies and Hillary Clinton non-governmental email accounts:"
"All records of email communications between the Office of Foreign Assets Control and any "clintonemail.com" address, including but not limited to hrod17@clintonemail.com and hdr22@clintonemail.com;"
"All records of email communications between the Committee on Foreign Investment in the U.S. and any "clintonemail.com" address, including but not limited to hrodl7@clintonemail.com and hdr22@clintonemail.com; and"
"All records of email communications between the Office of the Secretary of the Treasury and any "clintonemail.com" address, including but not limited to hrod17@clintonemail.com and hdr22@clintonemail.com."
"Judicial Watch is investigating a controversial 2010 deal involving Uranium One, the Canadian company currently at the center of the Clinton Foundation donor scandals and ARMZ, a wholly-owned subsidiary of Rosatom, the Russian atomic energy agency, which recently took a 51 percent controlling interest in Uranium One.  The lawsuit seeks information about the approval of this deal and whether the Committee on Foreign Investment in the United States (CFIUS) ignored the mandatory 75-day review approval process, approving the deal in just 52 days.  Mrs. Clinton, as Secretary of State, was a member of CFIUS."
"Peter Scheweizer's book Clinton Cash first raised questions about the Uranium One deal, which benefited many donors to the Clinton Foundation, including Giustra, who, among other dealings, helped set up a Clinton Foundation entity in Canada that had the effect of hiding donations from foreign governments and others from public disclosure, despite promises of disclosure by Hillary Clinton and the Foundation."
"As the New York Times reported on April 23, the Clinton Foundation hid many of the beneficiaries of the deal approved by Mrs. Clinton and CFIUS:"
"'As the Russians gradually assumed control of Uranium One in three separate transactions from 2009 to 2013, Canadian records show, a flow of cash made its way to the Clinton Foundation. Uranium One's chairman used his family foundation to make four donations totaling $2.35 million. Those contributions were not publicly disclosed by the Clintons, despite an agreement Mrs. Clinton had struck with the Obama White House to publicly identify all donors. Other people with ties to the company made donations as well.
And shortly after the Russians announced their intention to acquire a majority stake in Uranium One, Mr. Clinton received $500,000 for a Moscow speech from a Russian investment bank with links to the Kremlin that was promoting Uranium One stock.
At the time, both Rosatom and the United States government made promises intended to ease concerns about ceding control of the company's assets to the Russians. Those promises have been repeatedly broken, records show.'"
It appears the Obama administration and the Treasury Department are working to keep communications about the deal from coming to light.
"These United States of America can never be destroyed from forces outside its borders. If America falls, it will fall from within, brought down by apathy. When good people do nothing, Anarchy reigns"Abraham Lincoln